You said 'My favourite program on TV ?'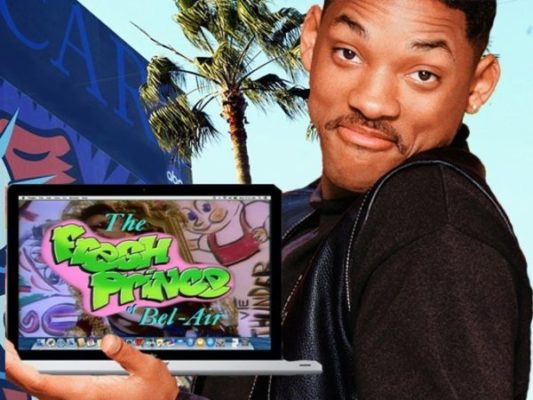 My favourite series is The Fresh Prince of Bel-Air.
It's an old series which was broadcasted in France on channel 6 in the 90's. The main character is Will Smith. It's the story of a poor teenager who lives with his aunt in a ghetto. His mother decides to send Will to his aunt's to avoid delinquency. His new family lives in Bel-Air, a rich borough of Los Angeles. His uncle is a lawyer and his aunt, a doctor. Will is fan of music and basketball. His uncle and aunt are so rich that they have a butler ! I really like it because it's a very funny series.
Mehdi and Mohamed, 2nd TCB
My favourite TV program is FUTURAMA.
Futurama is a science fiction and comedy series. The main character is Fry. Fry has red short hair. He is a delivery man. He was cryogenized in 1999, after the new year and he woke up in 2999. His best friend is Berden. Berden is a robot created by Doctor Hubert Forworth. Leïla is a one-eyed woman. She is very serious. She is Fry's secret love. Fry and Berder are the stupid guys of the series. I'm crazy about this series. I cling to the characters, particularly Berder. He's really funny. He can't resist drinking beer with Fry and he likes partying.
Quentin P., 2nd TBEE
I love the series called « Mr Bean » and the actor who is a very funny person. He is a humourous character who does silly things.The principal actor's real name is Rowan Atkinson. This series takes place in the United Kingdom and it's broadcasted on ITV1 – the British channel- and on Gulli and channel 3 in France. It's the funniest series !
Iliès J., 2nd TBEE.
My favourite TV program is Smallville.
Smallville is the name of a city in the U.S.A. The main character, Clark Kent, is a super hero who comes from another galaxy. He lives now on planet Earth. He was adopted by a young couple who found him in a spaceship. They had trouble making a baby so they decided to keep him and they gave him the name of Clark. Later they discovered that he had superhuman powers. Thanks to Clark, the planet was saved more than once.
Considered as a hero, Clark is called Superman, but in reality, his name is Kalel on his planet.
I like this series because Clark is very strong and he can fly.
by Christopher Y. 2nd TBEE
My favourite series is The Simpsons because it's very funny. This series is composed of five characters : two parents and three kids. It's a middle-class family. The son, Bart, is very crazy. The daughter is very intelligent. The second daughter, Maggie, is a baby. Homer, the father likes eating. Marge, his wife, is very calm. They live in Springfield City, in the U.S.A.
by Hugo, 2nd TBEE
Homer is the principal character of the series. He is very stupid. He works in a factory but he is very lazy. He sleeps when he works, and when he drinks, he jokes. Marge is unemployed. She does the housework everyday, she prepares the meals and she looks after her daughter Maggie. Bart and Lisa go to school. Bart always does stupid things, but Lisa is the opposite of Bart. It's very funny because there are jokes and actions.
by Mikail Z., 2nd TBEE
The walking dead is a famous American series which is broadcasted on W9 Channel in France. The main character, Rick, is a sheriff who falls into a coma after an accident. Five months later, he wakes up but he discovers the world invaded with zombies. Separated from his family during this invasion, he tries to find his wife and son if they are alive.
He will succeed but he will have to adapt to this new world, and make important decisions to survive.
I love this series because the story is interesting, there's suspense and it is quite interesting. I think the actors play very well their role.
by Lylian, 2nd TBEE
My favourite TV series is Better Call Saul on Netflix channel. This is the story of Jimmy McGill, an ex-convict, who goes to jail. During his stay in jail he learns the job of lawyer. His brother, Chuck McGill, is an esteemed lawyer. Jimmy McGill tries to become a great lawyer in New Mexico, but nothing happens as planned…
This series is not very long (it contains only one season) but I enjoy it. It is very gripping and interesting.
By Issam D., 2nd TBEE
Malcolm is an American series composed of 6 seasons. it is talking about a family of 6 ( later seven ) characters. Lois is the mother : she's bossy and strict but she loves her kids. Al, the father, is immature but loving. Their older son, Francis, is the rebel of the family who bullies Malcolm at home and defends him at school. Malcolm is the little genius and Dewey the smart and musically talented little one.
I like this series because it's funny and it talks about an ordinary family. Everyone can see himself in it. That's what makes this show a memorable series.
Adam, 2nd TBEE
I enjoy watching TOP CHEF, because it talks about food, and because it is a good quality show with good judges. The show features chefs competing against each others in various culinary challenges. They are judged by a panel of professional chefs and other VIPs from the food industry with one or more contestants eliminated in each episode. This series is broadcasted on channel M6.
Irwin & Arzu, 3 P.Pro.